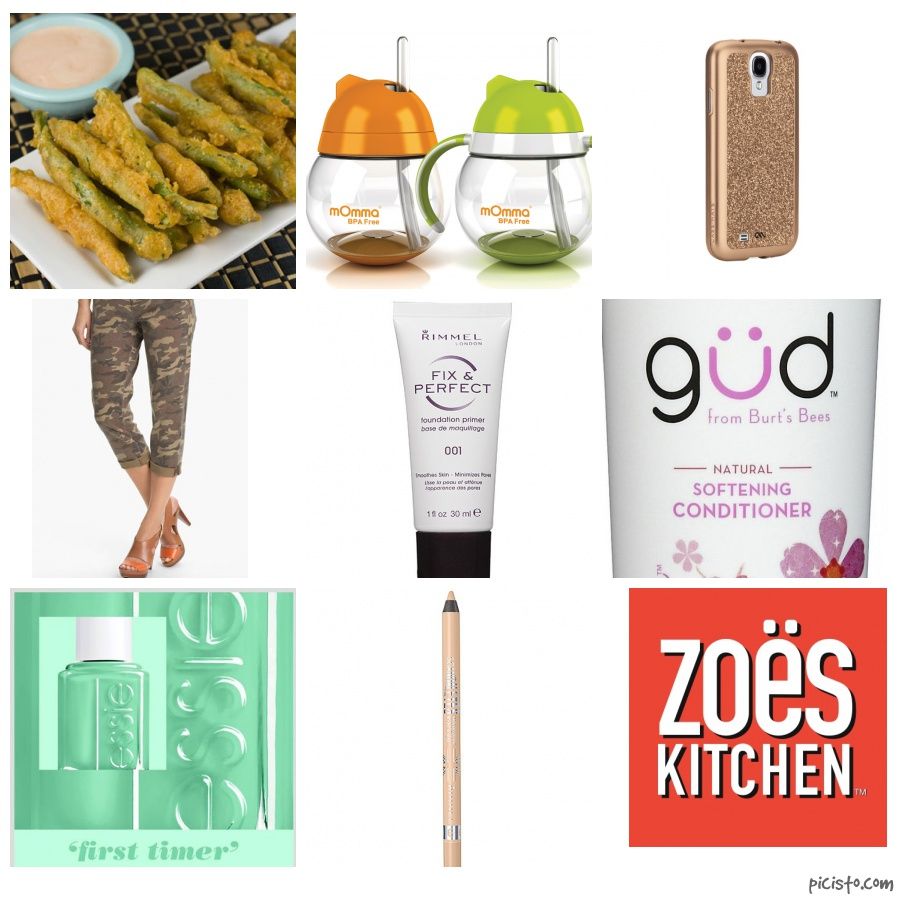 1) Kroger Fried Green Beans- Y'all know I normally make everything from scratch but I wanted something easy for my daughter's first birthday party. These were one of the frozen appetizers I picked up. They are delicious considering they are frozen! You can get these at your local Kroger in the frozen section.
2) Momma Round Cup- I randomly picked this up for Zoe at Target while searching for a sippy cup both she and I would like. She loves the shape and enjoys rolling it around like a ball. Most importantly, it doesn't leak! The lids can also be mixed and matched. We have one soft spout and one straw and a set of handles. These are sold exclusively at
Target
.
3) Samsung Galaxy S4- All I can say is this is the coolest phone I have ever had. I'm sure there are many features I have yet to discover. I was deciding between this and an iPhone and I made the right choice. I also got the gold glittery case shown above.
4) Kut From the Kloth Gwen Pants- These pants are so comfortable and the perfect length. They can be dressed up or down. I also have the Olive Tuscany color and I have my eye on the Lime Soda color. They are currently on sale at
Nordstrom
.
5) Rimmel Fix and Perfect Primer- I also picked this up at Target. I was out of my primer (now I can't even remember what brand it was) and saw this had a good price so I decided to give it a try. It's not a silicone feeling type primer. It does have a tan/pink tint to it but it matches my skin tone perfectly. It does a great job of blurring imperfections, smoothing, and making my foundation last. This can be found at any drugstore or grocery store.
6) Gud Shampoo/Conditioner in Floral Cherrynova- I'm still loving this scent. I went ahead and bought this even though I was not out of my current shampoo/conditioner combo. I use this most days and use the other protein enhanced combo once or twice a week. The shampoo does a great job of removing buildup. The conditioner isn't super hydrating but I always put a leave in conditioner in as well so it's not too drying. These can be found at any drugstore and some grocery store.
7) Essie in First Timer- I knew I wanted this after I saw swatches online. The first time I went to get it at Target it was sold out but luckily it was back in stock the next week. It's almost a neon mint green cream with hints of turquoise. I think it looks bluer in person than the picture. Anyways, it's a gorgeous color. I currently have it on my toes and I know it will be a summer and yearly favorite. I got mine at Target and Ulta also carries the most current Essie collections.
8) Rimmel Scandaleyes Waterproof Kohl Kajal in Nude- I have needed a new nude eyeliner for quite some time. I wanted to try the new Pixi one at Target but it seems that location has given up on Pixi because the display looks sadder and sadder each time I go. Since I had good luck with the Rimmel primer I decided to try this eyeliner. I even got the last one. I love this particular liner because its very creamy and easy to line the water line. It has pretty good staying power too. I am going to pick up a second one so I can have one in my bag at all times. This is carried at all drugstores and Ulta.
9) Zoë's Kitchen- Who says an entire restaurant can't be one of my favorites? My sister-in-law introduced me to this place. We all got a kick out of the name. Every time I place a to go order I use Zoe's name because it makes me smile. A new location has opened in our neighborhood so it's very convenient. I even have an app where I can scan all my receipts in order to get points to get free items. Check it out if you haven't yet!