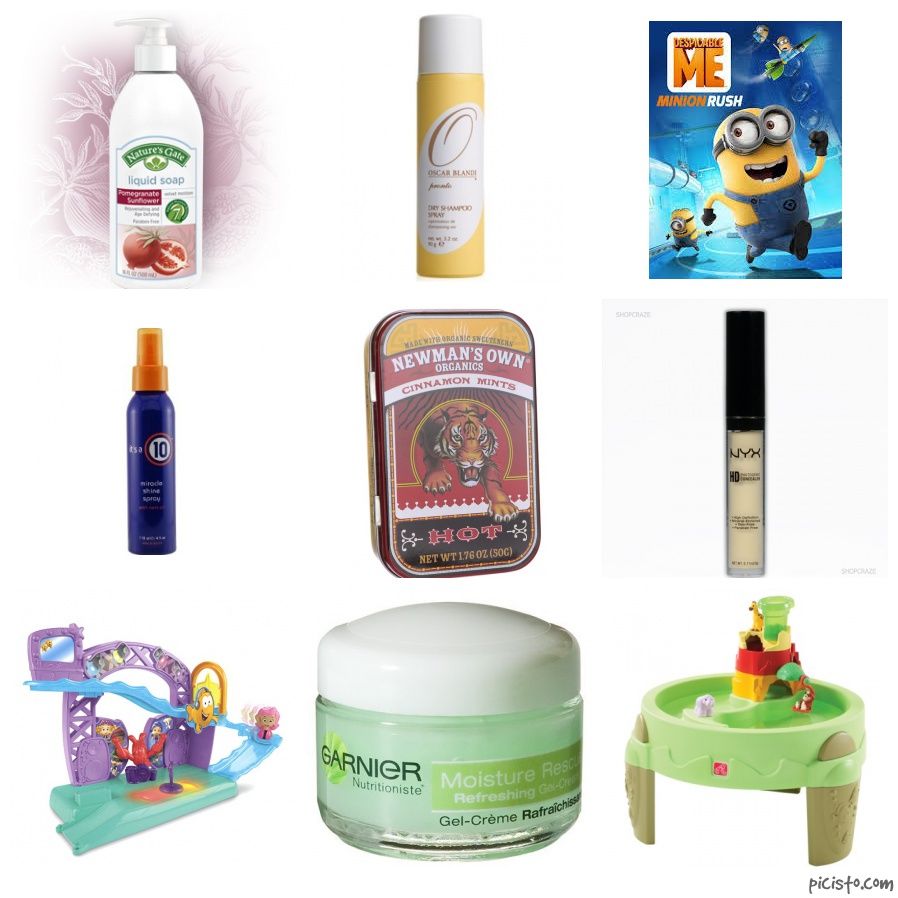 1. Nature's Gate Liquid Hand Soap in Sunflower Pomegranate- I know I had a different hand soap last month but it was very hard to find. I found this one at Sprout's and my Kroger also carries it. It's not very sudsy so if that's your thing you may not like it. But the scent! Oh the scent is so good. It smells like candy! I loved it so much I bought the body wash when I ran out.
2. Oscar Blandi Dry Shampoo Spray- I originally had the powder form of this on my list. I had been using the powder quite a bit. When I ran out I went to Ulta to pick more up. Of course they were out of it but I saw a travel sized version of the spray. I tested it on the back of my hand and I liked the consistency so I decided to give it a try. I will never go back to the powder again. Although I love the way the powder works I don't like that it is white. The spray has the same scent as the powder. Kind of lemon-y and fresh. The spray also gives my hair a bit of volume and is great at soaking up excess oil or product. If you have never tried a dry shampoo before I highly recommend this. It works on every hair color.
3. Minion Rush- I normally don't play games on my phone. I like to play them on my iPad but for some reason I installed this one. I think I was updating my other apps and I saw this featured in the store. It's just a lot of fun and you can play as often as you like without having to wait for your lives to reload (ahem Candy Crush).
4. It's a 10 Miracle Shine Spray- I randomly picked this up at Target because I needed a new shine spray. I have used their leave-in conditioner before and I love it so I figured I would like this as well. I really love it! It smells great and is not too heavy or greasy. I have used it on second and third day hair. The best thing is I'm pretty sure it's a dupe for Alterna Caviar Shine Spray which is ridiculously expensive.
5. Newman's Own Organics Cinnamon Mints- I mentioned the Wintergreen flavor last month and when I saw these at Sprout's I knew I had to try them. I like them better than the Wintergreen flavor and I always have them in my bag. For those of you who prefer organic mints with no fake sugar these are a must have!
6. NYX HD Yellow Concealer Wand- I have tried every under eye concealer out there and this is the best- so far. The texture is a little on the watery side but if you leave it to set it will get thicker. The yellow offsets the blue under eye circles. If you are worried about having a yellow face- don't be. A little foundation or powder over it will take the yellow out. I even went back to Ulta to get the green (offsets redness) because these are a bargain.
7. Bubble Guppies Rock and Roll Stage- I was at Walmart getting a water table for Zoe and this was in the same aisle. Even though my hands were full I went to look at it because she is obsessed with Bubble Guppies. It was a good price so I got the stage along with three of the guppies and the bubble puppy. It was very easy to put together and although Zoe didn't understand how to use it at first she is in love with it. She loves pressing the button that plays different songs and she constantly has one of the guppies with her. Since she has five of the roll toys she loves lining them up or throwing them into her purse and carrying them around.
8. Garnier Moisture Rescue Refreshing Gel-Creme- I was looking for a new facial lotion and although this came out a while ago I wanted to try it because of it's gel formula. It is a lot lighter than a normal lotion and goes on very thin. Which is especially good for the day time when I am also using a primer.
9. Step 2 Water Table- I was hesitant to try this at first. Zoe had a phase where she wasn't into the water. But it is summertime and everyone I know has one. I don't know what it is about this thing but she loves it. Even before I put it together she was playing with it and the toys it came with. She loves putting her bath toys in it too. I highly recommend this if your baby is standing on his/her own.